The cool weather is finally starting to hit here in the midwest which can only mean one thing: it's officially chili season. Few things bring comfort like curling up with a slowly simmered blend of beans, beef, and spices on a cold October evening. This twist on classic chili is hearty and sure to bring about feelings of comfort during this cool season.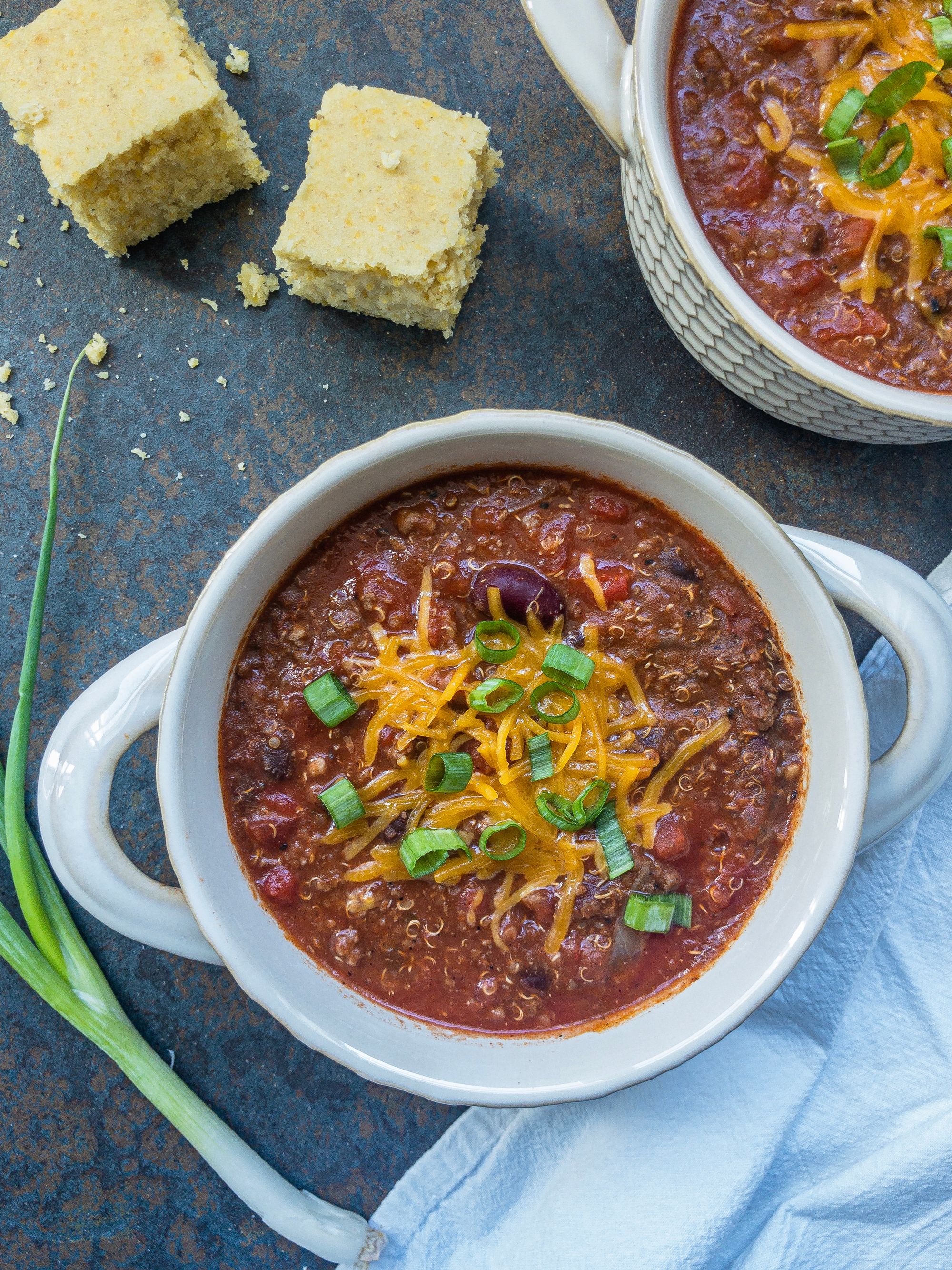 I LOVE thick soups and stews. Honestly, the thicker the better. To me there is nothing better than lots of texture, chunks, and thick heartiness. The addition of quinoa in this chili provides the ultimate thickness factor. Not only is it an excellent texture component but it is another great source of protein to compliment the beans and beef.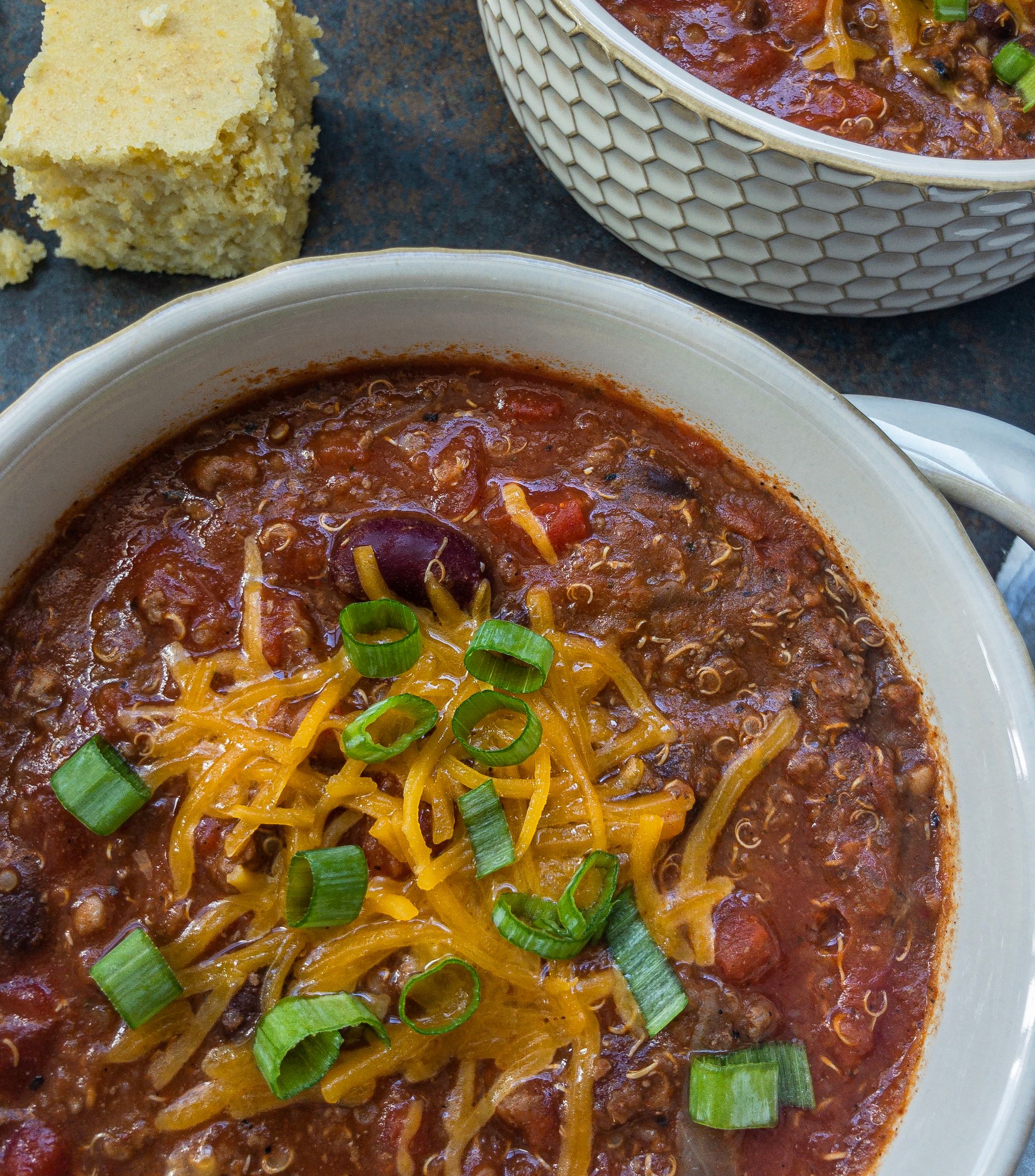 And the best part about this recipe? It's made in the slow cooker. Simmering low and slow all day allows all of the flavors to meld and intensify. Not to mention it makes your house smell amazing! Brown the meat, then dump all the ingredients and leave to simmer all day. It doesn't get much simpler or more delicious than that.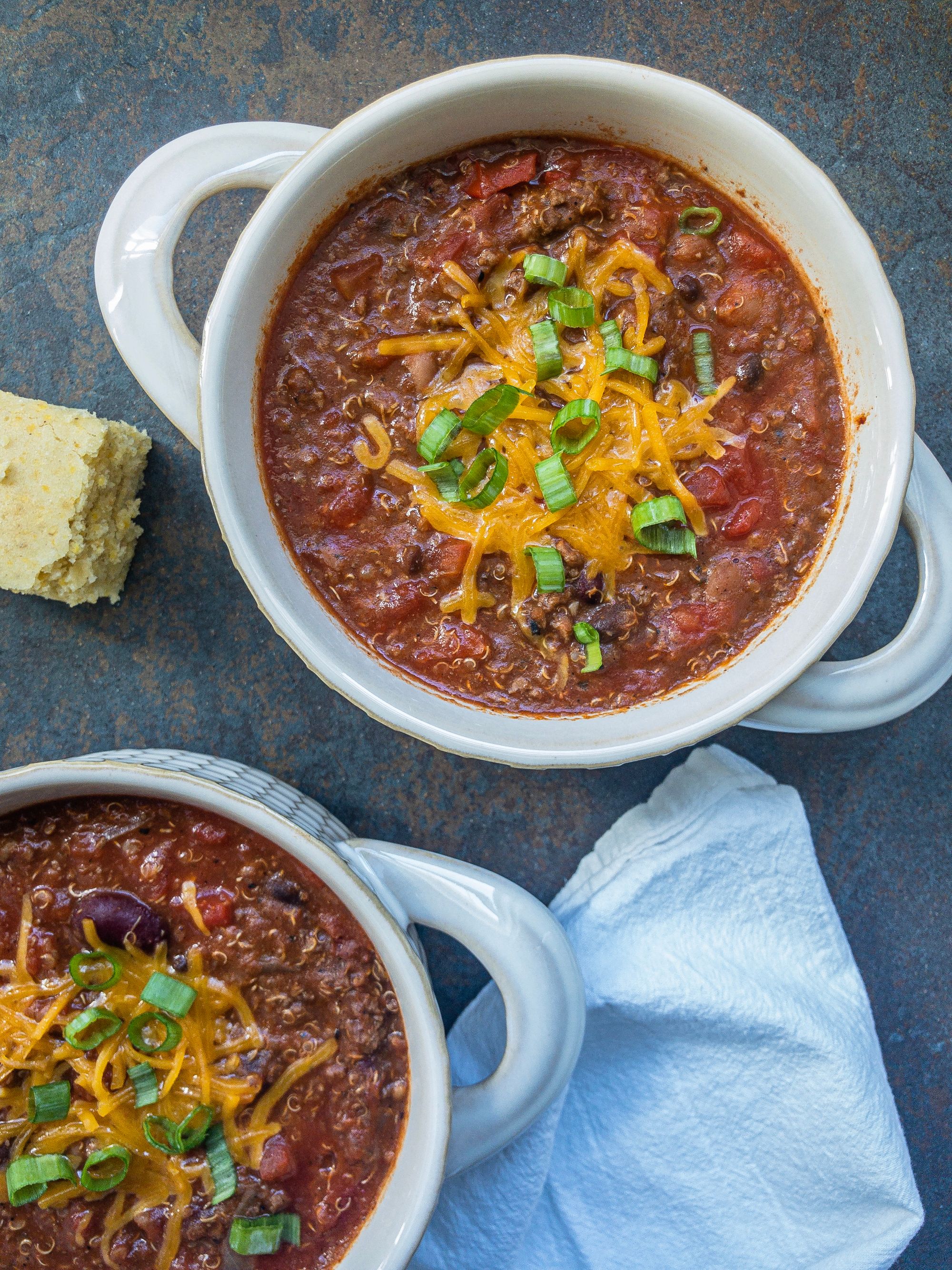 ---
Slow Cooker Quinoa Chili
Ingredients
1-lb lean ground beef
1-Tbsp olive oil
1-15 oz. can black beans, no salt added
1-15 oz. can pinto beans, no salt added
1-15 oz. can kidney beans, no salt added
1-15 oz. can tomato sauce, no salt added
2, 15 oz. cans diced tomatoes, no salt added
2 1/2 cups chicken broth, reduced sodium
1-cup quinoa, uncooked
2 tsp minced garlic
1/2 medium yellow onion, diced
1-tsp salt
1-tsp black pepper
2 Tbsp chili powder
2 tsp cumin
1-1/2 tsp paprika
1/4 tsp cayenne
2 tsp cocoa powder*
1-tsp dried cilantro
Chili toppings*
Instructions
Heat olive oil in a large skillet over medium-high heat. Add diced onion and cook about 5 minutes until translucent. Add beef to skillet, breaking it up as it cooks. Add garlic and continue to cook mixture until meat is browned and cooked thoroughly, about 5 minutes. Remove from heat.
Transfer beef and onion mixture to slow cooker. Add ALL other ingredients (except toppings) and stir to combine.
Cover and cook on low for 7-8 hours or high for 3-4 hours.
Stir and serve warm with your favorite chili toppings.
Notes
*Cocoa powder is a secret chili ingredient that creates depth and dimension in the flavors. You won't be able to taste the cocoa powder but it will balance out the acidity and your chili will taste richer. Don't skip it!
*Not sure what to top your chili with? Here are some ideas: cheddar cheese, green onions, avocado, sour cream or plain greek yogurt, cilantro, limes, bacon, corn, jalapeños, tomatoes, cornbread
---
If you make this recipe, snap a photo and tag it with #joyfulrecipes - I love to see your creations on Instagram and Facebook! Find me: @thejoyfulliferd
With Joy,