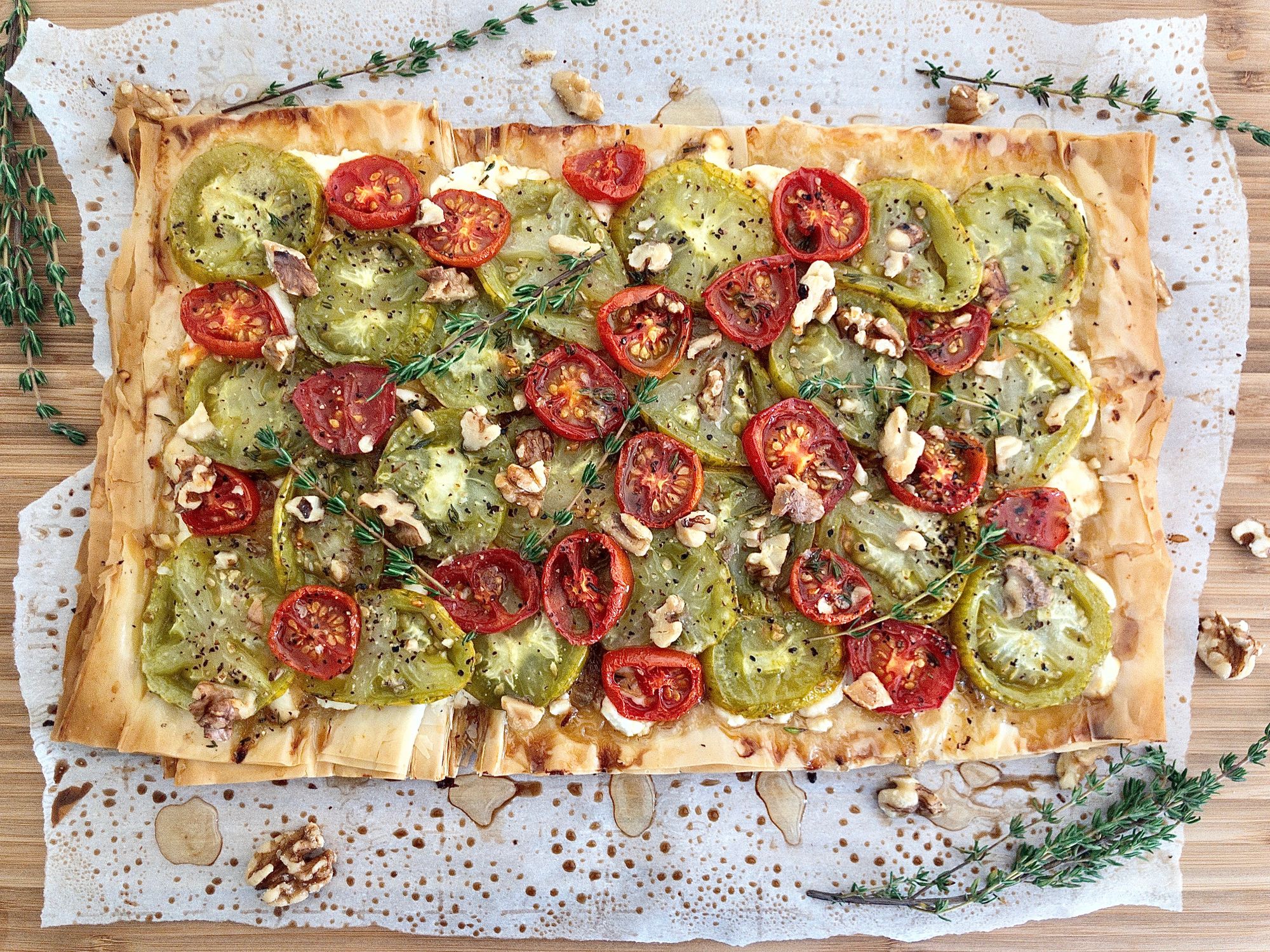 It is officially fall and I am fully ready to embrace everything pumpkin and apple. But my garden is still hanging on to the last threads of summer. I am still picking bunches of tomatoes every day. After gallons of homemade salsa, bruschetta, salads, and even tomatoes for breakfast I was in the search of something new.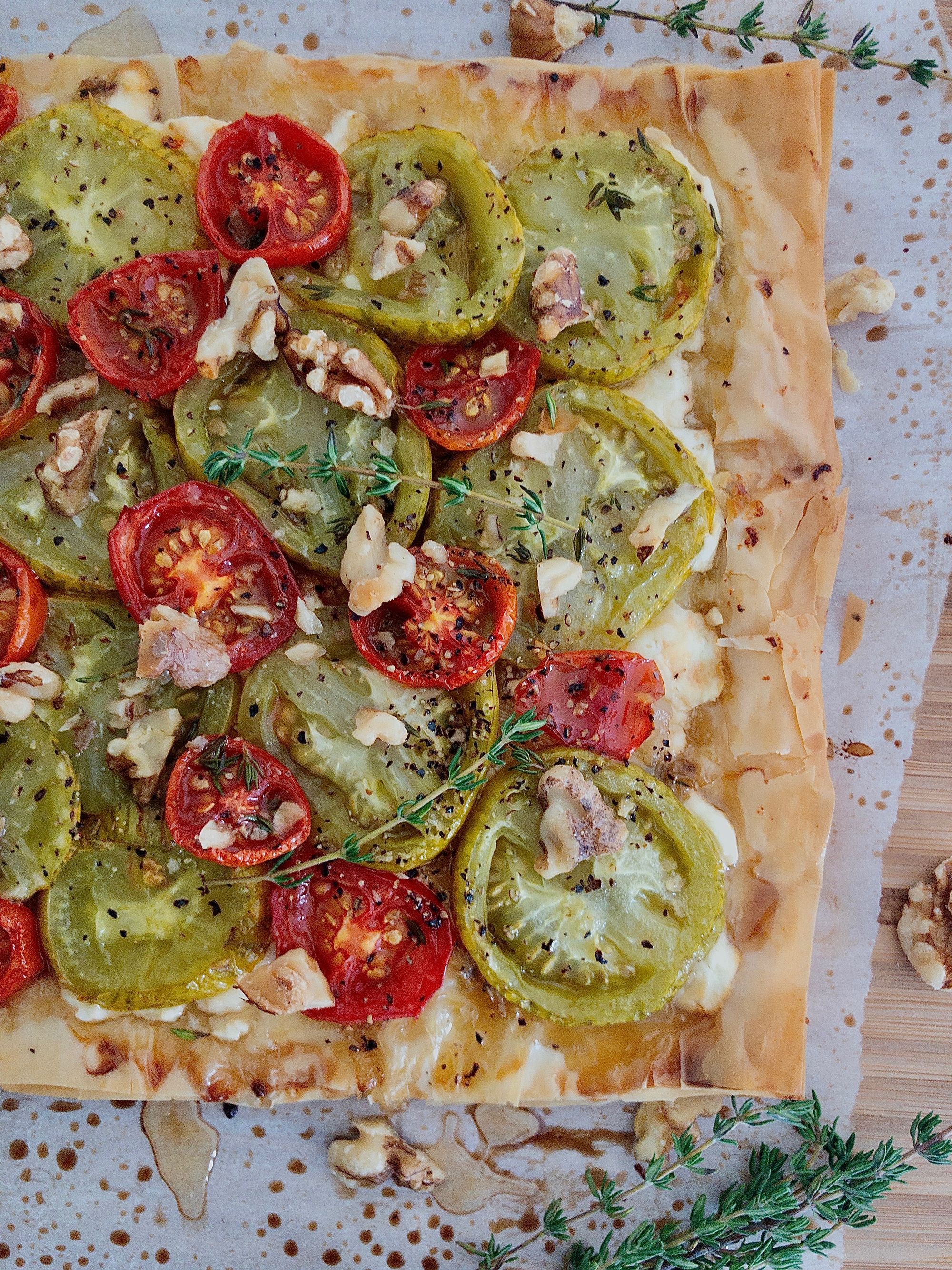 And let me tell you, I think I found the perfect thing to bridge summer and fall. While still enjoying the sweet produce of summer, this tart also embraces the warm tastes and comforts of fall. Tomatoes and goat cheese are a classic pair bringing an essence of freshness, while the caramelized onion and thyme takes the flavor to a whole new level.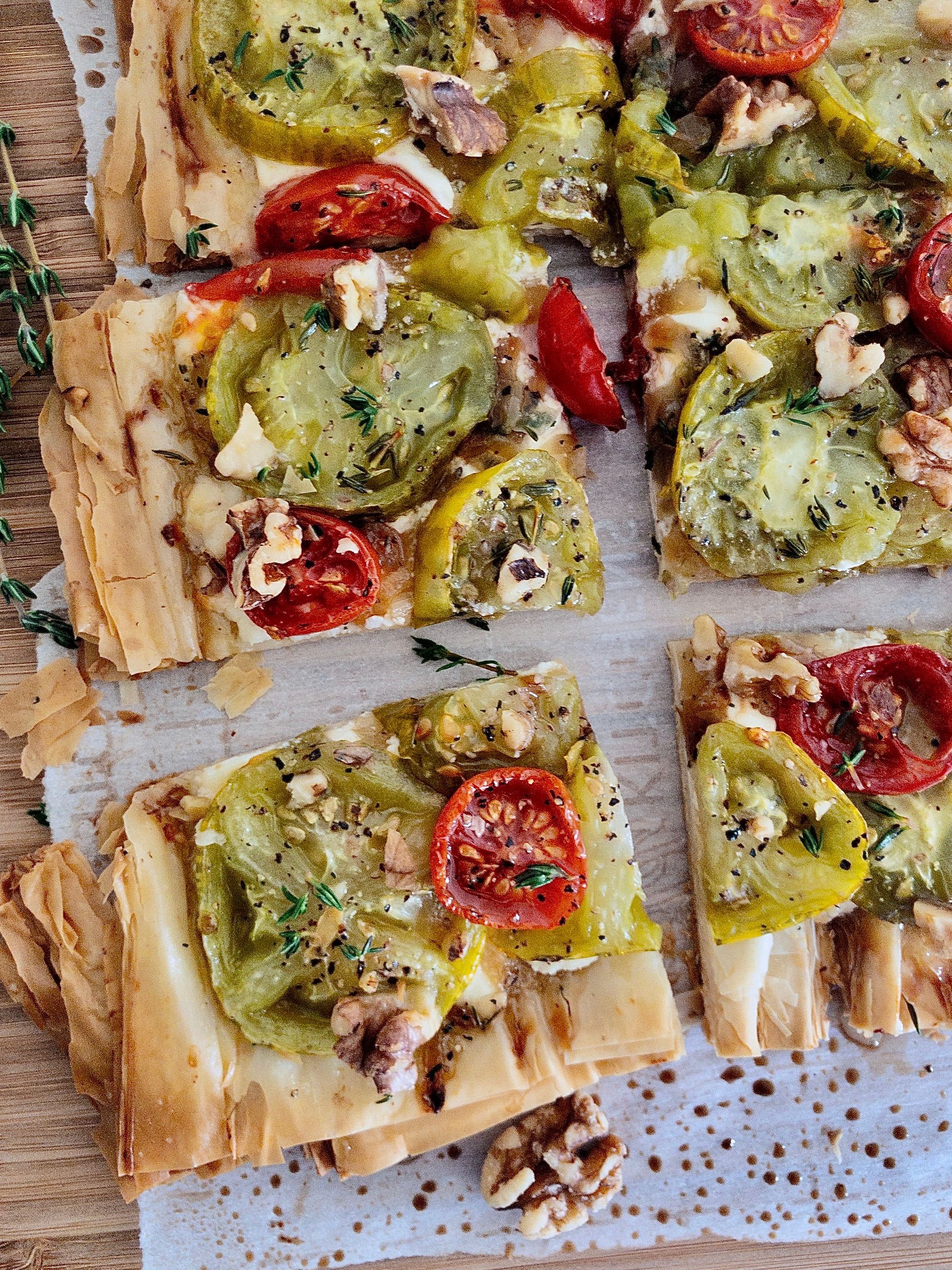 And don't forget about the honey. If you're skeptical about honey and tomatoes... don't be! It's the critical element of this tart and really brings out the sweetness in the tomatoes and onions. Finally, I topped it with chopped walnuts to give some more crunch and texture.  YUM. I can see this becoming a late summer/early fall staple for us!
---
Heirloom Tomato and Honeyed Goat Cheese Tart
Ingredients
1-roll phyllo dough (20 sheets), thawed
2 Tbsp olive oil
1/3 yellow onion, thinly sliced
8 sprigs of fresh thyme, chopped
6 oz goat cheese, crumbled
2-3 Tbsp honey
4-5 heirloom tomatoes, sliced
8-10 cherry tomatoes, sliced
Olive oil, for drizzling
Salt & pepper
Honey, for topping
1/3 cup walnuts, chopped
Additional fresh thyme for garnish
Instructions
Bring phyllo dough to room temperature prior to use. Set out on counter for approximately 3 hours. Prepare all of your ingredients before rolling out dough as it dries out quickly.
Preheat oven to 400 degrees F. Line a baking sheet with parchment paper.
Add 2 Tbsp of olive oil to skillet and place on medium-high heat. Add the sliced onion and stir constantly until they begin to soften, about 5 minutes. Sprinkle with salt and pepper for taste. Continue to saute until onions are browned and lightly caramelized, about another 5 minutes. Remove from heat and stir in fresh thyme.
Roll out phyllo dough when thawed. Place one layer on parchment-lined baking sheet. Brush lightly with olive oil. Top with another layer of phyllo and brush with oil. Repeat until all 20 layers are oiled and stacked.
Spread crumbled goat cheese on phyllo, leaving a thin 1/2 -inch border around the edges. Liberally drizzle goat cheese with honey. (Use more or less than the suggested 2-3 Tbsp depending on preference). Add the caramelized onions in an even layer on top of cheese and honey. Top with tomato slices - it's okay to layer and overlap.
Drizzle tomatoes generously with olive oil and sprinkle with salt and pepper. Top with chopped walnuts.
Bake for 30 minutes or until the edges of the phyllo is golden and the tomatoes are slightly charred. Finish with a drizzle of honey and garnish with fresh thyme sprigs.
---
If you make this recipe, snap a photo and tag it with #joyfulrecipes - I love to see your creations on Instagram and Facebook! Find me: @thejoyfulliferd
With Joy,