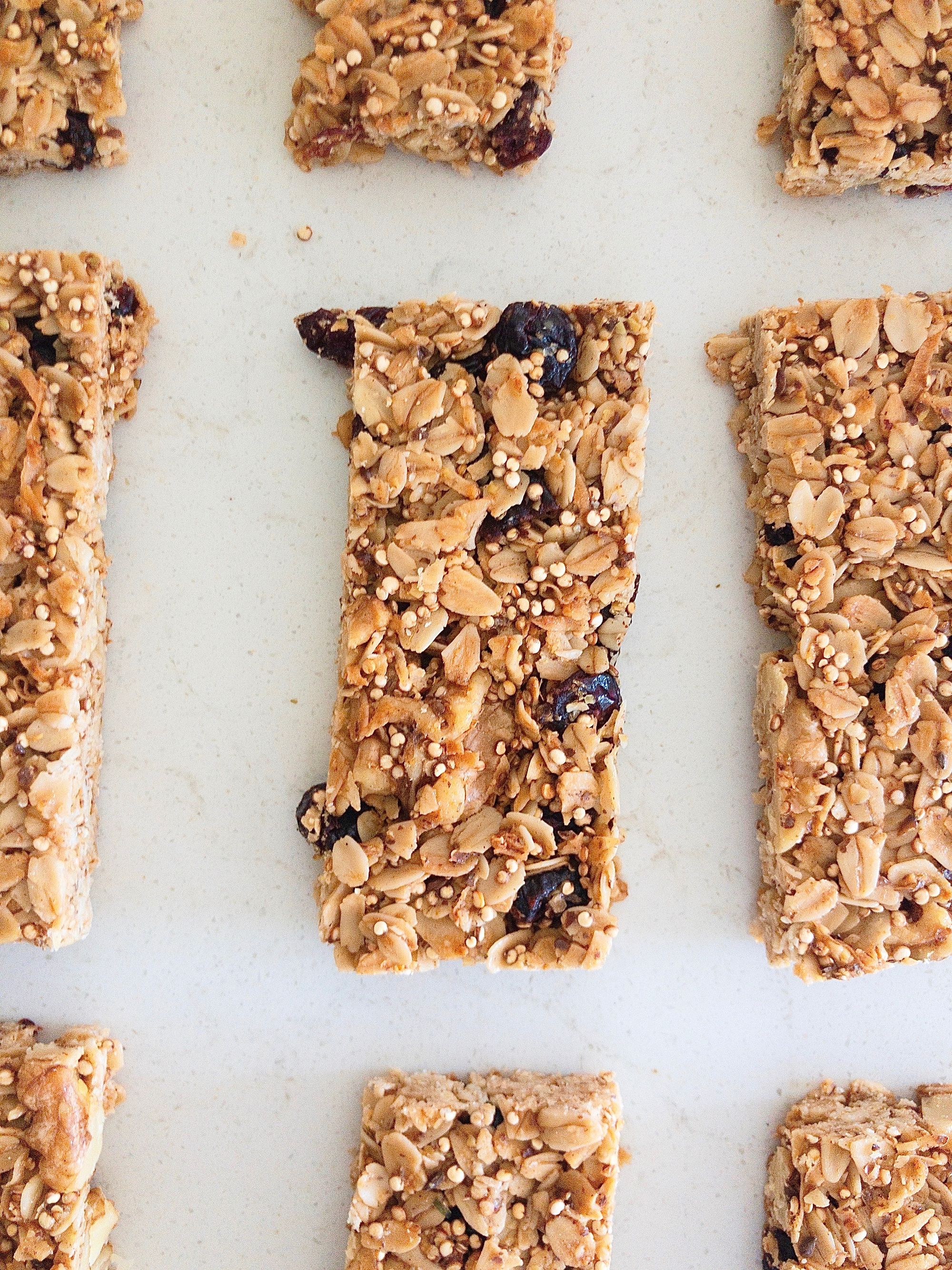 Lately, one of my favorite things to make is homemade granola. I enjoy being able to create my own flavors and add different mix-ins. In my house we have a love affair with granola. For us it can be a breakfast or snack whether it's eaten plain or with yogurt and fruit. As a busy family, we are always grabbing snacks for on the go. These bars have become our latest go-to obsession.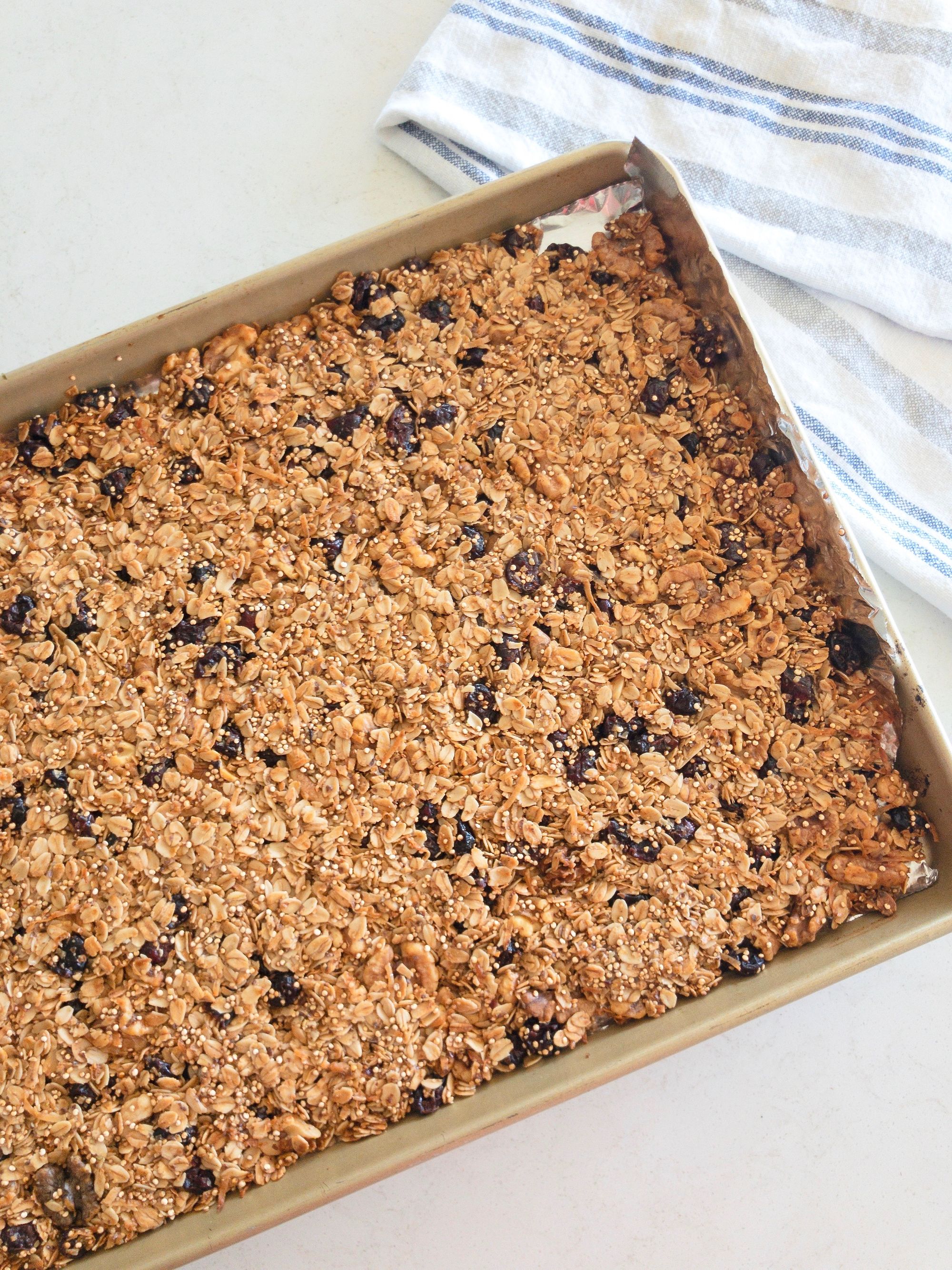 Loaded with dried cranberries, chopped walnuts, and coconut flakes and adorned with a honey, maple syrup mixture the flavors come together to truly satisfy sweet, salty, and nutty tastes. The popped quinoa gives them a subtle crisp and achieves a perfect balance between chewy and crunchy.
The great thing about this recipe is that you can customize it to your liking with your own mix-ins. The walnuts and dried cranberries can be substituted with your favorite fruit and nut, or even chocolate! Just be sure to keep the amounts and dry to liquid ratio the same.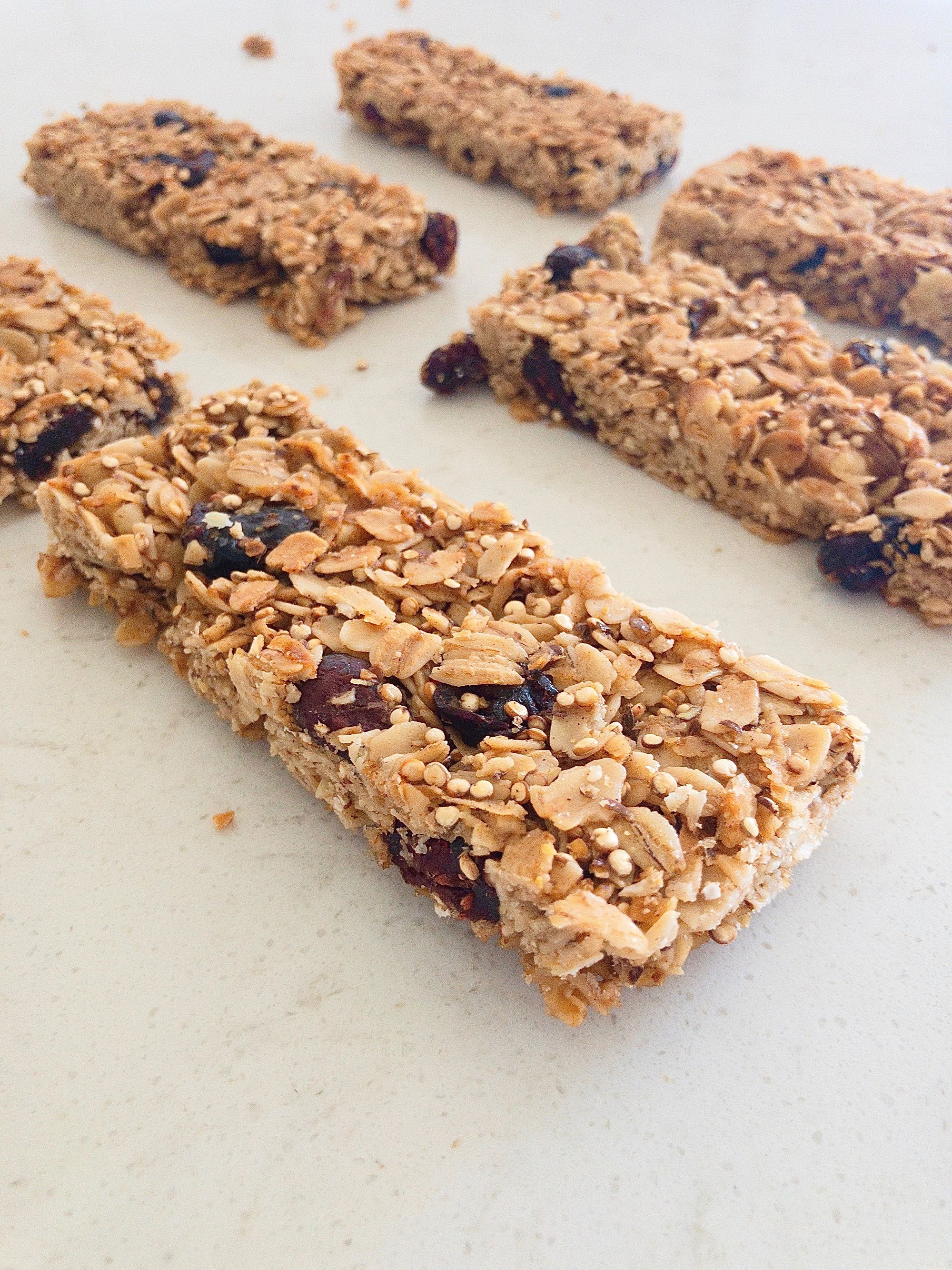 ---
Cranberry Walnut Granola Bars
Makes 32 granola bars
Ingredients
1/2 cup popped quinoa
1/4 cup flax seed
3 1/4 cup old fashioned oats
1/4 cup flour
1-cup coconut flakes (unsweetened)
1-1/4 cup chopped walnuts
1-1/4 cup dried cranberries
1/2 tsp cinnamon
1/4 tsp sea salt
1/2 cup coconut oil, melted
1/2 cup honey
1/4 cup maple syrup
1-tsp vanilla
Instructions
Preheat oven to 325 degrees F.
To pop quinoa: heat large pot on the stove over medium heat. When the pot is hot (you may notice it starting to smoke) add just enough of the quinoa to cover the bottom of the pan in a single layer. You should hear it start to "pop", similar to popcorn. Hold pot above stove and swirl vigorously to prevent quinoa from burning. When the popping starts to slow down and the quinoa is a golden color, transfer it to a large mixing bowl. Repeat the process until all the quinoa is popped.
Add flax seed, oats, flour, coconut flakes, walnuts, dried cranberries, cinnamon, and salt to large bowl with quinoa. Stir to combine.
Melt coconut oil in medium microwave-safe bowl. Stir in honey, maple syrup, and vanilla.
Pour liquid mixture into the dry ingredients and mix until all of the dry ingredients are well coated.
Spread granola mixture on a large parchment-lined baking sheet. Using the back of a metal spatula, press firmly on the granola until it is in an even layer. This will help it stick together and hold its shape as a bar.
Place in preheated oven and bake for 18-20 minutes. Remove from the oven and let cool on a rack for at least 1 hour.
Cut into bars and store in an air-tight container at room temperature.
*Notes: If you do add chocolate, wait to add it after the liquid and dry ingredients are already combined. This allows the hot liquid mixture to cool a bit and will prevent all your chocolate from melting.
If you like your bars crunchier, bake for 25 minutes until slightly golden brown. If you prefer them to be a bit chewier, stick to 18-20 minutes.
---
If you make this recipe, snap a photo and tag it with #joyfulrecipes - I love to see your creations on Instagram and Facebook! Find me: @thejoyfulliferd